Hello everyone!
Pamellia and the entire design team here and we are back to announce the Winners and Runner-Ups from our first anniversary challenge "Celebrate Your Style". We would like to say a huge thank you to everyone who entered our birthday challenge last month and supported us for our one year mark! It was so amazing to see all those gorgeous projects that were posted! You all put a lot of love into your fabulous creations and we are completely blown away by the variety of projects and creative ideas!
As we tallied up the votes, it turned out that we had a three way tie for the winning spot and a two way tie for the runner-up. So without further ado (in no particular order)
WINNERS
Coco #18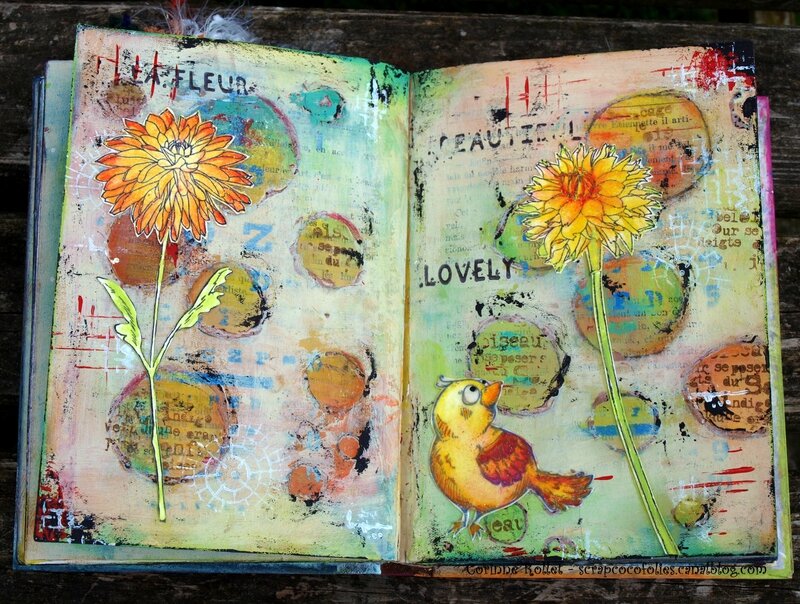 Congratulations to
Coco, Mari
and
Suzz
, you really impressed us with your projects! Please contact Pamellia (pamellia1162@gmail.com) with your full name and mailing address to receive your Gift Vouchers. Deadline is June 25.
We would like to send out a special thank you to the sponsors who donated these wonderful Gift Vouchers and helped to make our Anniversary challenge one to remember:
THE FUNKIE JUNKIE BOUTIQUE:
EMERALD CREEK:
Congratulation Ladies! Your work is amazing!
Random Prize Winners
27. Becca Cruger
54. Melissa SunshineHoneyBee
73. Paper Talk With Samra
We would like to thank Linda at the Funkie Junkie Boutique for donating a box of products for our random draw. I have divided it up into three packages, please contact me (pamellia1162@gmail.com) with your full name and mailing address to receive your prize. Deadline is June 25.
***
Now let's have a look at our DT favourites:
Anne's Favourite
-
Ruth
- No. 119
Ruth created the most beautiful textured background and the flowers are cleverly made with more beautiful mixed media backgrounds. A stunning creation.
Autumn's Favourite
-
#116 Miranda
Miranda's genius mix of drawing and mixed media stole my heart! This fabulous stylized owl is unbelievably cool and inspiring. I am totally blown away with Miranda's drawing skills and use of color!
Branka's Favourite
-
#119 Ruth
I am really impressed by this fabulous canvas with amazing rich textures and breathtaķingly beautiful handmade flowers! It's a fantastic vintage looking make!
Lisa's Favourite
-
#67 Nikki
I am mesmerized by the gorgeous colors in Nikki's canvas!! I love how they go from bold stripes to a subtle, muted blend!! The butterfly is a perfect touch!! It's absolutely stunning!!
Niki's Favourite
-
#32-Lys
I was drawn to this gorgeous design by Lys because of the dark and gorgeous background and the texture! Bling, bling! I just wanted to reach out and touch this! Can you believe that the texture was created from potpourri!?! Talk about an upcycle and genius was to use a household item. Wowzers Lys!
Pamellia's Favourites
-
93. Jane's Journal
Jane's tag hypnotized me with the amazing colours, and the black and white accents create such a whirlwind of contrast and interest, I LOVE the entire look! So dreamy!
128. boozybear
This layout is just incredible. One of those projects I wish I could reach into my computer screen and touch! So many wonderful products and they all work together in harmony!
20. Electra
I've never seen so many wonderful colours used together before! I would expect a jumbled mess, but instead, this gorgeous piece of art just shines! Well done!
Sara Emily's Favourite
-
#119-Ruth
The background on this canvas is mesmerizing--I wish I could reach out and touch the texture! To top it off, Ruth finished it in the most beautiful colors and topped it with handmade flowers cut from handmade mixed media papers. This is a must see up close, so be sure to pop by Ruth's blog!
***
Honourable Mentions
***
A huge congratulation everyone! Thank you so much to everyone who played along with us last month and any month last year! We thank you for your continued support and look forward to many more Birthdays!! Don't forget to grab your badges! You earned them!!
There is still plenty of time to enter Niki's current challenge
THE BIRDS AND THE BEES
! We can't wait to see what you come up with this time!
Hugs to all, from the 'Anything But Cute' Design Team